Annual Northwestern IT Awards Celebrate Staff Excellence
Annual Northwestern IT Awards Celebrate Staff Excellence
Posted Date: March 30, 2023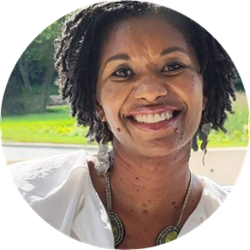 "It is gratifying to be awarded such a high honor, but more than that, it is affirming to hear that the things people value in me are the very things I value in others."
Serena Simpson
Communications Specialist,
IT Services and Support,
IT Communications
2022 Employee Excellence Award Winner
On Thursday, February 16, in the James Allen Center on the Evanston Campus, Northwestern IT celebrated employee and project team excellence at its first Extended Staff Meeting of 2023. Serena Simpson, communications specialist in IT Communications, took home the 2022 Employee Excellence Award, and the Action for COVID-19 Response team earned top project honors by winning the FY22 Project Team Excellence Award.
Embodying the Term Excellence
In the words of one nominator, Serena Simpson embodies the term "excellence." She is a true empath who has the innate ability within a few minutes of meeting you to understand your needs. She also brings a positive tone of mutual respect, partnership, and understanding to every project. In just a few sentences, it is easy to see why Simpson was selected as the winner of the Northwestern IT Employee Excellence Award for 2022.
The award recognizes individuals who have made remarkable contributions and consistently demonstrated a superior level of performance in the calendar year. Simpson's involvement in several high-profile projects—replacing the ITSM platform, MFA for Canvas, Zoom, and Panopto, digital course materials analysis, and more—allowed her to collaborate with colleagues across the organization and implement communications strategies that benefited all students, faculty, and staff.
Commenting on Simpson's role in the ITSM platform replacement project, David Gracey, manager of IT service management, said, "It has been a pleasure working with Serena on the ITSM Platform Replacement Project. She is collaborative and consistently demonstrates her ability to build strong working relationships. Serena is professional and candid yet kind and respectful in her interactions. She takes a thorough approach to her work...she is seemingly one step ahead in planning various outreach and communication activities to keep stakeholders informed and engaged in the project."
 Simpson's willingness to step up and her ability to know without asking when help is needed makes her even more of a pivotal team player.
"One of the most significant contributions Simpson made in 2022 was stepping into the Box Migration project to assist with day-to-day communication efforts," said Steve Christensen, associate director of IT Communications. "As the complex project evolved, Simpson stepped in with no hesitancy to assist the team. Despite this being unplanned, her work on other projects persevered, and her contributions never suffered. Her ability to quickly understand the needs for collaboration and unplanned assistance to her teammates showcased her desire to achieve success for the team, not just the projects she was assigned to."
Simpson is also committed to improving the employee experience in Northwestern IT. In 2022, she joined the Northwestern IT Diversity, Equity, and Inclusion Committee and is currently a steering committee member. She is also part of the IT Services and Support Engagement committee and has partnered with Research Computing Services, Teaching and Learning Technologies, Media and Technology Innovation, and the University Libraries Makerspace colleagues to coordinate and ensure the internship program was a robust experience for a local Evanston Township High School student. She accepted these challenges because she is committed to developing her personal and professional skills while giving back to the organization and the local Evanston community.
When asked to comment on her time at Northwestern and reaction to winning the award, Simpson said, "I joined Northwestern IT in March 2020, just days before the COVID-19 pandemic upended the world. Everyone told me starting a new job then—especially in an IT organization and especially in higher ed—was like being dropped into the middle of the ocean, and I was sure to either sink or swim. Luckily, I was dropped into a school of very strong swimmers. I knew what was needed, what to do, when, and how, simply by paying attention and keeping pace. Every advance I've made since joining Northwestern IT has included others keenly committed to a collaborative and coordinated effort to move us all forward in a supportive and protected environment. It is gratifying to be awarded such a high honor, but more than that, it is affirming to hear that the things people value in me are the very things I value in others."
As the 2022 winner, Simpson receives a plaque commemorating the award, a gift card, an extra vacation day, and lunch with the vice president for information technology and chief information officer, her director, and this year's runner-ups.
Simpson was one of 14 nominees for the 2022 award. Congratulations to all the nominees: Andy Baldovsky, Carol Prokop, Chris Fowler, Gladys Villareal, Ivette Bravo, Lori Blum, Nick Evans, Praveena Narisetty, Robert Trujillo, Samatha Bodanapu, Sarah Cross, Steve Kahrs, and Steven Dal Santo.
Learn more about the Northwestern IT Employee Excellence Award.
Action for COVID-19 Response Team Recognized
Three projects with significant impact were finalists for the Northwestern IT FY22 Project Team Excellence Award (PTEA), with the ultimate prize going to the Action for COVID-19 Response project. This project included nearly 30 staff members from areas across Northwestern IT Administrative Systems and Cyberinfrastructure. The group came together to develop a critical ecosystem of tracking, monitoring, and reporting tools that significantly contributed to the safety of the University during the COVID-19 pandemic.
In the early days of the pandemic, the project team built and then maintained a complex ecosystem that delivered key support to operational teams and crucial data to University policymakers. The ecosystem provided reliable, time-sensitive metrics to school and unit leadership and a secure data flow to and from external vendors, Northwestern enterprise systems, case management applications, and government reporting agencies.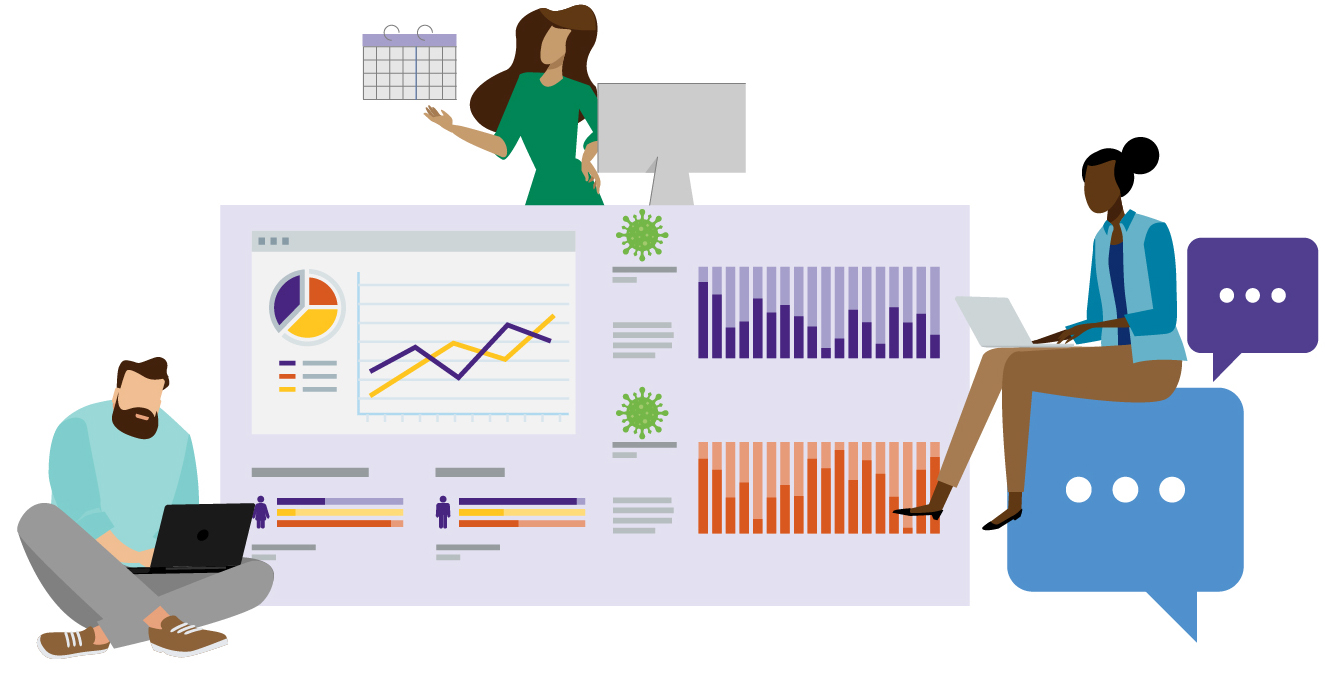 At the meeting, Vice President for Information Technology and Chief Information Officer (CIO) Sean Reynolds called the work an exemplary project and noted the absolute criticality of the COVID-19 Response ecosystem and its complexity due to the dynamic nature of its requirements.
The PTEA committee assessed the project and awarded it a near-perfect score, recognizing its extremely high impact; the team's technical ingenuity, versatility, and effective collaboration; and the overall quality of the work, all while considering that requirements and priorities were fluid throughout the project as the pandemic and health guidelines rapidly evolved. Ultimately, the team demonstrated a high degree of dedication, continually addressing shifting priorities and meeting aggressive deadlines.
"The skill and dedication of this project team allowed them to overcome challenges and deliver the tools we needed to keep the University safer during a time of exceptional health risk," said Alan Garbarino, director of Data Management and Analytics. "I can't congratulate this project team enough. We all remember the immense stress and pressure the pandemic caused, including its changing nature. Many team members made personal sacrifices throughout this very tumultuous time to perform work that kept Northwestern University safer."

Other finalists for the annual award included the FY22 Q2 winner, the Northwestern SSID Retirement project, and the MFA for Canvas, Zoom, and Panopto project, which shared the FY22 Q3 award with the Action for COVID-19 Response team.
The annual Project Team Excellence Award winners receive an award certificate, lunch with the vice president for information technology and CIO and the director affiliated with the project, and an extra day out of the office. To learn more about project team excellence, visit the Project Team Excellence Award page on the Northwestern IT website.