Canvas Accessibility Project
New Project Aims to Provide an Accessible Canvas
Posted Date: February 28, 2023
February marks the beginning of an initiative designed to continue our progress in making Northwestern's digital learning environment more accessible, welcoming, and inclusive. While the University has a digital accessibility policy and is working to ensure all Northwestern websites align with the policy, the next step in our collective effort to enhance digital accessibility includes focused attention on learning content. 
Through a multi-year, phased approach, the Canvas Accessibility Project—a partnership between Northwestern IT, Office of Equity (now the Office of Civil Rights and Title IX Compliance), and AccessibleNU—will guide instructors who need assistance bringing their learning materials and course sites into compliance with Northwestern's digital accessibility policy and the Americans with Disabilities Act.
 
The Canvas Accessibility Project includes two phases:
Phase One (2023) is focused on increasing the accessibility of course site pages and content created inside the Canvas platform.
Phase Two (2024) centers around increasing the accessibility of files uploaded to course sites.
Project Rollout
In the coming weeks, individuals with instructor access to Canvas courses will receive emails detailing how to implement accessible changes in courses by focusing on seven core skills. The emails will feature the return of the fictional Dr. Roberts from the Next Normal series.
In these updates, instructors will learn about the seven core accessibility skills that are the focus of this project for the next two years. The seven areas are:
Headings

Hyperlinks

Alternative Text

Tables

Color Contrast

Lists

Audio and Video
Updating the seven core content areas can be quick and relatively easy. They significantly impact the student experience and can be addressed in any order—no one area is more important than another. Collectively, they make an impact on students who have low vision, use a screen reader, are color blind, are not native English speakers, have learning differences, or use accessibility software to review course material.
Mission: Accessible
To provide instructors a means to track their progress in creating accessible course sites, the Teaching and Learning Technologies team is inviting instructors to participate in the Mission: Accessible challenge. Participants do not have to be Canvas experts to be successful in the challenge, which will help break down the task of creating accessible digital content into smaller chunks of work and track progress.
Instructors who opt-in will receive an email every other Friday inviting them to track their progress. When each challenge for all seven core content areas is completed, a project team member will review the course(s) and verify completion. When instructors complete the challenge for a course, the project team will award them a certificate of completion, add their name and course information to the Accessibility website, notify their dean and department head, and share language to include in their course description to let students know their course content is designed with accessibility in mind.
Once fully accessible courses have been achieved, these updates are evergreen and can be easily imported into new versions of the course each term.
Join the Mission: Accessible challenge
Adding Siteimprove to Canvas
To establish a baseline for measuring Northwestern's collective success over the coming months, Teaching and Learning Technologies is working with the Office of Global Marketing and Communications to add the Siteimprove tool to the Canvas system. Siteimprove data includes the total number of errors related to aspects of the seven core areas identified for improvement. The data will not be used to review individual class sites; instead, they will provide an aggregate measure that allows for understanding improvement over time.
Canvas is protected by multi-factor authentication; thus, Siteimprove must be added as an observer in Canvas courses to bypass the Canvas login page. This approach will also limit Siteimprove's access to scan only current content pages in Canvas. Below is a preview of what Siteimprove will look like in the People area of a Canvas course when enrolled in a course site:

Introducing Canvas Commons and Accessible Course Templates
To ensure accessibility is considered when designing courses, the best place to start is with one of the accessible course templates now available in the Canvas Commons. All teachers, teaching assistants, and support roles can find, import, and share Northwestern-specific resources in the Commons, which is accessible via the global navigation menu in Canvas.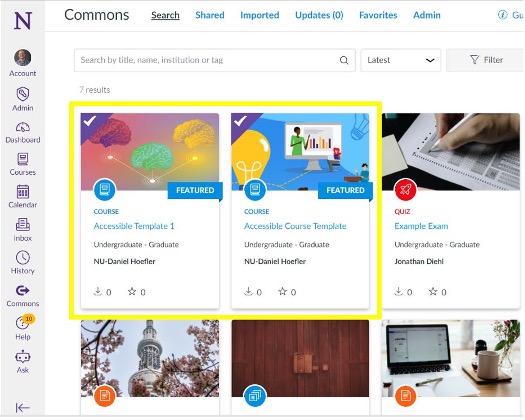 The featured resources in Canvas Commons—highlighted by the FEATURED banner—are templates developed explicitly by Teaching and Learning Technologies to meet all current digital accessibility standards. Instructors can import the templates into a course site with just three clicks. Visit the Canvas Learning Center to learn more about accessible course templates and how Canvas Commons makes integrating them into new and existing course sites easy.
Tool Time and Additional Resources
Teaching and Learning Technologies offers training and support opportunities focused on digital accessibility. The next opportunity is a Tool Time training on Wednesday, March 8, a 30-minute workshop about UDOIT and the Canvas Accessibility Checker. These existing tools review the content of your course so instructors can identify and fix issues related to the seven core content areas.
REGISTER FOR THE MARCH 8 TOOL TIME
Digital accessibility is a responsibility shared broadly across the campus community, and together we can advance this effort to improve the experience of all Northwestern students using Canvas.
If you need help or have questions about the Canvas Accessibility Project, please contact the Teaching and Learning Technologies team at canvas@northwestern.edu.