Enriching the Northwestern Community Experience with Innovative Solutions
Administrative Systems
Administrative Systems owns, manages, and develops enterprise systems to support the business of Northwestern. These enterprise systems are primarily utilized by students, faculty, and staff to support the completion of core business capabilities.
Our mission is to enrich the Northwestern community experience with innovative solutions that transform administrative systems, driving effectiveness, efficiency, and flexibility through partnerships, knowledge, and understanding of Northwestern priorities.
Administrative Systems Guiding Principles
Provide a high level of customer service focused on meeting business needs and commitments.
Strengthen relationships with business partners and other IT teams through collaboration, analysis, project delivery, and technology advancement.
Maintain an agreement-based planning process with our stakeholders.
Make work visible and understandable to the teams and our business partners.
Ensure production services are effective, efficient, reliable, flexible, and secure.
Drive standardization on common enterprise platforms, processes, and governance (with agreed to functional variations).
Reuse and extend before buy, apply delivered rather than customize, buy before build.
Define, collect, integrate, and report information consistently.
Embrace a culture of continuous improvement and innovation focused on flexibility, agility, delivery, quality, and consistency.
Develop, retain, and attract world-class IT talent.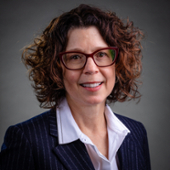 Kris O'Brien
Associate Vice President
Reporting Units
Application Development and Operations - EACD
The Enterprise Applications and Custom Development team develops and manages enterprise software applications that serve the University's administrative needs.
Application Development and Operations - PeopleSoft
The Application Development and Operations PeopleSoft team develops, maintains, and runs enterprise and custom-software solutions that serve the University's campus community.
Data Management and Analytics
The Data Management and Analytics (DMA) team supports the growing University demand for holistic and multidisciplinary data. The team manages the enterprise business intelligence platform, develops shared data repositories, provides enterprise reporting, and offers oversight for visualization tool licensing.
Enterprise Systems Alumni and Financials
The Enterprise Systems Alumni and Financials (ESAF) team supports and enhances a portfolio of technology solutions that facilitate the business functions of Alumni Relations and Development, Budget and Planning, Financial Operations, Research Administration, and Facilities.
Enterprise Systems Human Resources and Student
The Enterprise Systems Human Resources and Student (ESHRS) team provides services to the University community to enable and maintain systems associated with the hire-to-retire business processes, as well as student-related data and applications.
Office of Portfolio Management
The Office of Portfolio Management (OPM) partners with Administrative Systems teams to improve portfolio planning, utilization of resources, and project delivery. The team supports IT as a strategic business partner for delivering successful project solutions.