Delivering a Portfolio of Integrated Services
IT Services and Support
IT Services and Support is a customer-focused organization that works across the University to support students, faculty, and staff in their use of technology. The following teams work closely with students, faculty, staff, and researchers, technology leaders in the schools and units, and colleagues in the University Libraries and Searle Center for Advancing Learning and Teaching, to deliver a portfolio of integrated services.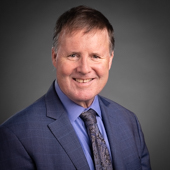 Sean Reynolds
Vice President for Information Technology and Chief Information Officer
Reporting Units
IT Communications
IT Communications implements change management initiatives to inform the University community of new and changing technology and raise awareness of Northwestern IT services and resources that support the University's academic, business, and research activities.
Media and Technology Innovation
Media and Technology Innovation delivers learning space design and consultation services to support University schools and departments in making informed decisions regarding audio-visual technologies, digital signage, room-based videoconferencing solutions, and special event support.
Research Computing and Data Services
Research Computing and Data Services supports faculty, student, and staff researchers by providing data science and visualization, computing, and data-management expertise and related services. The team delivers training to develop skills, support researchers via one-on-one consultations, and partner on research projects. Services include research data storage, data-transfer tools, high-performance computing facilities, access to research software, and cloud-based infrastructure.
Teaching and Learning Technologies
The team fosters innovative learning experiences through the exploration of effective teaching techniques and technologies. Services include Canvas, the primary platform used to facilitate teaching, learning, and collaboration; individual consultations and workshops; instructional design for blended and fully online courses; and the development of innovative infrastructure and tools.
Technology Support Services
Technology Support Services provides direct support to the Northwestern community to help our students, faculty, and staff access and use Northwestern's wide variety of technology offerings. We lead service delivery efforts and continuous service-improvement practices across campus by partnering with technology leaders and practitioners across campus.  We also provide services and thought leadership in the management of fundamental IT processes for central IT and distributed IT units across all Northwestern campuses.